Whether you're looking for a new pair of chamois to go under your favorite pair of mountain bike baggies, some padded cycling underwear to wear to spinning class, or a good bike liner short to wear on your bicycle commute to work, you've come to the right place.
In this article, we share 5 of our favorite pairs of padded cycling underwear to help make your ride a little bit more comfortable. We'll also discuss what you should look for in bike underwear (also known as a chamois) so you pick the right pair for your bottom side.
But First…..What's A Chamois?
If you're already familiar with chamois and bike shorts, you can skip this section.
That said, a lot of women searching for a pair of cycling underwear aren't familiar with the term. A chamois is a pad that's sewn into your bike shorts or a liner that goes under your shorts (or pants or skirt).
If you already have padded bike shorts, then you're good to go. You don't need a liner!
But if you have a pair of baggy mountain bike shorts without padding OR you want to wear padded underwear under a skirt, dress, or pair of regular shorts, then you'll want to look for a liner with a chamois.
A good chamois is one of the most important factors to a woman's enjoyment on the bike, and yet one of the most ignored. Many of us simply accept the sub-par chamois that came in our favorite bike shorts or skip the padding all together because its just not comfortable.
If you've been struggling with pain or chafing on the bike, then it's probably time to try a new liner or pair of padded shorts.
---
POC Essential Boxer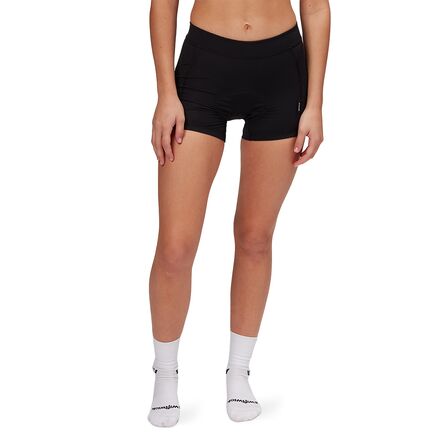 *
POC makes my favorite helmets, and I rather dig their Essential short liner as well. The material on these boxer-briefs is super soft, and the padding is adequate without being bulky.
The only bummer is the pricetag, which is on the high side for something that goes under your clothes. They also run a bit small, so order up a side unless you prefer your shorts to be extra tight.
Price: $89.95
---
Terry Women's Mixie Bike Liner
Terry is the leader in women-specific cycling apparel, so we're not surprised that their chamois is better than most.
While the Terry Mixie is marketed as a "recreational" chamois, any women who prefer a minimalistic chamois will dig these seamless bottoms. They also happen to come in pretty prints.
Price: $52.95
---
Club Ride June Chamois
The Club Ride June is one of my favorite chamois liners. Club Ride advertises it as their "1 hour" liner but women who like minimalistic chamois will be happy to use it for longer rides as well.
The inseam length is relatively short (3″) so the June works well under regular shorts for rides around town or to spin class. You can also pair it with some Club Ride Eden shorties.
If you a more substantial chamois, Club Ride has you covered there too. Both the 2 hour Drift Chamois and the 3 Hour Montcham chamois offer more padding.
Read Our Review: Club Ride Chamois
Price: $39.95
---
Terry Aria Bike Liner
Like plenty of ventilation? Me too. That's why I like the Terry Aria liner.
This liner is made of a stretchy mesh material with LOTS of little holes. Even the chamois itself has perforations for airflow.
Finally, we like that even though no one will see it, the bottoms are finished with Italian lace. Because you know that they're pretty.
Price: $99
---
Baleaf Cycling Underwear
The Baleaf Cycling Underwear is my #1 pick for women on a budget. Even though these are "entry level" bike underwear, I still wear them quite often even though they're tucked in my drawer with much more expensive options.
These are great shorts for women brand new to cycling, for use at spinning class, or for bike commuting. The waistband and chamois are comfotable, although they aren't seemless. If you have really sensitive skin you may want to upgrade.
Read Our Review: Baleaf Cycling Underwear
Price: $21.99 (Last updated: 2022-12-01 at 20:08 – More Info)
---
Louis Garneau 2002 Undies
Here is a true pair of cycling "underwear." These are perfect because you can wear them under any bottoms–a dress, skirt, jean shorts, whatever…
The Louis Garneau 2002 Undies are super minimal, so these aren't the bottoms to wear for a century ride, but for short cruises around town or at spinning class, you'll have plenty of cushion.
Price: Price not available (Last updated: 2022-12-01 at 16:11 – More Info)
---
Mons Royale Epic Merino Shift
Not a fan of synthetic materials? Check out the Mons Royale Epic Merino Shift liner.
This merino wool liner dries quickly which is a plus on both hot, sweaty days and cold, wet days. The liner has a chamois that's minimalistic, but comfortable enough to wear for up to 5 hours.
Price: $90.00
---
Comparison Chart: Women's Cycling Underwear
Not sure how all these chamois stack up with each other? Use our comparison chart to help you choose.
| Liner | Inseam Length | Thickness | Material |
| --- | --- | --- | --- |
| POC Essential Boxer | 2" | | Polyamide, spandex |
| Terry Women's Mixie Bike Liner | 6" | | Nylon, spandex |
| Club Ride June Chamois | 3" | 3mm | Nylon, Polyester, Spandex |
| Terry Aria Liner | 6.5" | | Polyester, Spandex |
| Louis Garneau 2002 Undies | 1" | | Drytex |
| Mons Royale Epic Merino Shift Liner | 6" | 6 mm | Merino Wool |
---
What To Consider When Choosing A Bike Short Liner
Not sure which of these liners are best for you? Read on for some tips on how to choose.
Type of Riding
What type of riding are you going to be doing? Depending on whether you are going to be commuting, riding around town, or mountain biking, you're choice might be different.
Mountain Bike Chamois
While most (but not all) baggy mountain bike shorts come with a pair of chamois, we actually prefer to buy our chamois separately. Why? Just like every woman is different, so is every woman's underside.
Some women prefer skinny chamois, while others like more padding. If you are experiencing chafing, saddle sores, or general discomfort, chances are switching your chamois might help.
The other awesome thing about buying separate chamois is that you can wear them with any short. And you can wear the same pair of shorts several times while putting on a fresh liner everyday–which is particularly nice when doing a week-long bike packing trip, for instance.
Best Choices For You: POC brief, Terry Maloja Tais
Commuting / Recreational Riding
Whether you're riding to work or simply cruising the bike path on the weekend, chances are you don't want to don lycra bike shorts. The good news is that you can put some padded cycling underwear under your favorite skirt, shorts, or pants, and cruise in comfort.
Instead of a more bulky chamois look for a liner with a mimilalistic chamois. Chances are you are riding shorter distances and don't want a bulky diaper under your outfit. The other thing to consider is the length–if the liner has too long of an inseam, it might not work under your clothes.
Best Choices For You: Louis Garneau 2002 Undies, Terry Mixie, Club Ride June
Spinning / Indoor Cycling
Whether you're headed to spin class or simply hitting up the trainer in the basement, you'll probably want a more minimalistic chamois. That's because when we're riding indoors, we usually only ride for an hour or two.
If you plan on wearing your liner under a pair of regular gym shorts, you'll also want to make sure the inseam is pretty short.
Best Choices For You: Louis Garneau 2002 Undies, Club Ride June
Read Also: What NOT To Wear To Spin Class
Chamois Thickness
One thing to consider before ordering a pair of liners is how thick the chamois is. The thicker the chamois the better suited it is for longer rides, but even then, some women may prefer more minimalistic chamois.
In fact, over time, you may want to experiment with chamois of different thicknesses to see what feels most comfortable for you.
Inseam Length
The liners on this list vary quite a bit in terms of inseam length. Some really look like underwear, while others look like briefs, and some look like full-length shorts.
Consider what you want to wear the liner underneath when choosing. There's nothing worse than having your liner stick out of the bottom of your short legs.
Material & Stitching
Most of the liners on this list are made of a synthetic material. The Mons Royale, liner, however is made of merino wool. If you prefer natural materials, then that might make an easy decision for you.
The other thing to consider is whether the bottoms are seamless. Women with very sensitive skin will want bottoms without any seams that rub. Seams can also help contribute to saddle sores.
More Reading to Make Sure Your Butt is Happy
Bike underwear isn't the only thing you can do to help your bottom side stay comfy on the bike. We also recommend picking a great saddle and possibly a chamois cream as well. Read on to learn more!